June 2015 Automobile Sales Report-Which manufacturers are among the best?
June
percent
sales
best
year
ZTSG
14/05/2022
Truck
104
Ford Motor Company, General Motors and Fiat Chrysler Automobiles all increased their sales last month. Each manufacturer has seen an increase in demand for its models and overall sales.Mercedes-Benz,...
Ford Motor Company, General Motors and Fiat Chrysler Automobiles all increased their sales last month. Each manufacturer has seen an increase in demand for its models and overall sales.
Mercedes-Benz, Kia Motors, and Hyundai all saw record sales too, while Mazda logged their best June in 13 years.
Ford Motor Company
General Motors
Fiat Chrysler Automobiles
Kia Motors
Mercedes-Benz
Hyundai
Nissan
Mazda
Ford Motor Company
The Dearborn, Michigan automaker increased U.S. June sales 2 percent, to 225,647 vehicles. F-Series average transaction prices reached an all-time record in June, moving above $44,000 per truck.
Despite an increase of $3,600 higher than last year, the all-new F-150 is still turning twice as fast on dealer lots than the industry average for half-ton pickups.
Ford SUV sales were up 10 percent year over year, marking the best June since 2002. Sales of the new Explorer totaled 20,377 – an increase of 30 percent versus a year ago. Sales of the all-new Edge also increased 30 percent in June versus last year, with 12,587 units sold.
Edge continues to turn quickly on dealer lots – at just 15 days – while the new Explorer is turning in just seven days.
Total Ford SUV sales equaled 64,885.
With the advent of summer weather, sales of the Ford Mustang jumped too, up 54 percent with 11,719 units moved.
General Motors
Chevrolet, Buick, GMC, and Cadillac delivered 259,353 vehicles combined in the U.S. last month, helping make the best June for GM since 2007. Sales to commercial customers, and state and local government fleets increased too.
GM also posted their best June for retail market share since 2011.
Most of the truck market share gain comes from the ongoing success of the Chevrolet Silverado and GMC Sierra full-size pickups, which were redesigned for the 2014 model year. Since calendar year 2013, GM's retail share of the segment has grown 0.9 percentage points to 38 percent.
Lat month, Chevrolet pickup deliveries were up 33 percent – Silverado was up 18 percent. Colorado sales reached 6,558 units, the best since June 2007. It remains one of America's fastest selling pickups with an average of 15 days on the lot.
GMC pickup deliveries were up 37 percent – Sierra up 21 percent and deliveries of the new Canyon totaled 2,532. GMC overall has grown its retail sales for 17 consecutive months.
For Buick and Cadillac, the winners were the Encore and SRX, up 22 and 45 percent respectively.
Fiat Chrysler Automobiles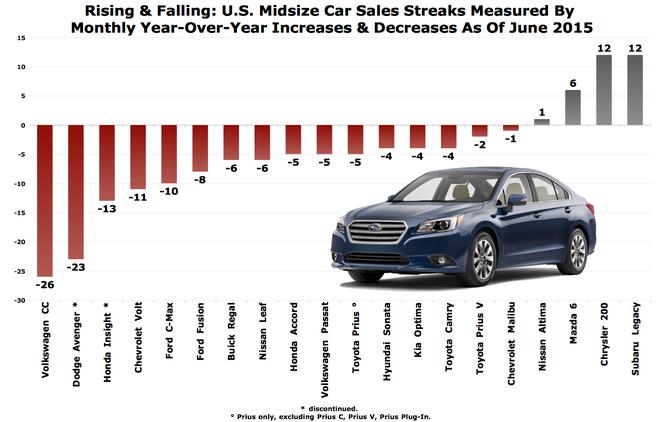 FCA US LLC reported U.S. sales of 185,035 units, an 8 percent increase compared with sales in June 2014.
It's FCA's best June sales since 2006.
The Chrysler, Jeep, and Ram Truck brands each posted year-over-year sales gains, compared to June 2014.
The Chrysler brand's 28 percent increase was the largest sales gain of any FCA US brand during the month, helping extended year-over-year sales gains to 63-consecutive months.
The Chrysler 200 posted the largest percentage increase of any FCA US vehicle last month. The 200 jumped 153 percent for its best June sales ever, while the 300 rose 11 percent in its best June since 2013.
The Dodge Journey also recorded its best monthly sales ever, while the Jeep Wrangler, Cherokee, and Patriot logged their best June sales ever.
Ram trucks were up 1 percent last month, the best June sales in 11 years.
Kia Motors
Kia Motors America logged their best ever June sales with 54,137 vehicles, making for their greatest first-half performance in company history. With more than 300,000 vehicles sold in six months, Kia is up 4.6 percent year-to-date.
Sales of the redesigned Sedona soared to a 707 percent increase over June 2014. The Forte rose to 7,907 units sold last month, up from 5,846 in June of 2014.
Mercedes-Benz
Mercedes-Benz USA reported June sales for the Mercedes-Benz brand at 28,044, climbing 5.8% from 26,506 sold during June of 2014. Sprinter delivered a 10.9% increase last month to 2,442, while 774 units for smart made a monthly total of 31,260 for MBUSA.
Year to date, Mercedes-Benz retails totaled 164,970, up 8.8%. With 13,534 for Sprinter and 3,624 for smart, MBUSA achieved a grand total of 182,128 units for the first six months of 2015.
The Mercedes-Benz brand was led by the C, E, and M-Class models.
The C-Class recorded 8,316 units, up 48.3% from June of last year. The E-Class followed with sales of 3,611, while the M-Class (to be succeeded by the GLE later this summer) rounded out the top three at 3,541.
Mercedes-Benz Certified Pre-Owned models delivered in June added up to 8,700, up 9.5% from June of 2014. AMG models posted a 24.5% monthly increase to just over a 1,000 units.
Hyundai
Hyundai Motor America reported June sales of 67,502 units. Although only up less than one percent, it was enough to create an all time best June in sales for the manufacturer. Year-to-date sales of 371,150 represents a 2 percent increase and marks Hyundai's best half year opening ever.
Elantra sales rose 55 percent for the month, marking its best ever June. The Santa Fe logged 10,446, up 17 percent and Sonata Hybrid saw the best June ever with 2,334 units, up 53 percent over last year.
Nissan
Nissan saw U.S. sales for June rise to 124,228 units, an increase of 13.3 percent and a June record for the manufacturer. Helping drive the strong finish were sales of Nissan crossovers, trucks, and SUVs, up 30.3 percent for a June record
Nissan Rogue set a June record at 23,243, an increase of 54.3 percent, Murano crossover increased 73.8 percent to 5,314 and Pathfinder jumped 12.7 percent to 7,168.
Nissan's best-selling vehicle, the Altima, set a June record with 29,418 sales, up 12.7 percent.
Mazda
Mazda North American Operations reported June U.S. sales of 27,223 vehicles, an increase of 3.9 percent versus last year. Through June, Mazda has sold 158,996 vehicles.
Mazda3 achieved 9,251 vehicles, an increase of 4.8 percent year-over-year and the best June since 2008. The CX-5 saw its best June ever with 9,373 vehicles sold for an increase of 18 percent.
June 2015
It also set the best Mazda 6 sales in 10 years.