2018 Toyota Tundra CrewMax 1794 Edition review
Tundra
1794
2018
Toyota
Edition
zhitanshiguang
27/07/2022
Hatchback
434
2018 Toyota Tundra Crewmax 1794 EditionProsRoomy CabinGreat Work StationOff-Road CapabilityConsFuel MileageRoomy CabinNo Heated Steering Wheel92SOLIDIn a very competitive environment with the top-sell...
2018 Toyota Tundra Crewmax 1794 Edition
Pros
Roomy Cabin
Great Work Station
Off-Road Capability
Cons
Fuel Mileage
Roomy Cabin
No Heated Steering Wheel
92
SOLID
In a very competitive environment with the top-selling Ford F-150, Chevrolet Silverado, GMC Sierra, Nissan Titan, and Ram 1500, Toyota Tundra makes headway in catching the competition. Introduced for 2007, the current generation Tundra was revised for 2014, and gets some refreshing for 2018. While it needs a major overhaul, the Tundra still offers plenty of grunt and the luxury many truck buyers are looking for.
This week we drove the top-of-the-line, 2018 Toyota Tundra CrewMax 1794 Edition.
What's New For 2018
Features & Options
1794 Edition Features
Interior Highlights
Engine, Towing, & Fuel Mileage Specs
Driving Dynamics
Conclusion
2018 Toyota Tundra Gallery
What's New For 2018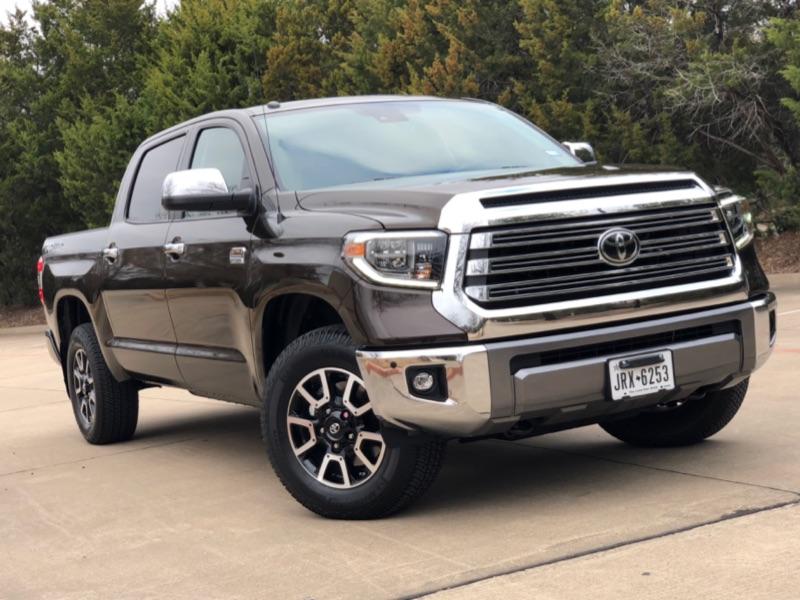 The 2018 Tundra gets refreshed styling and Toyota's Safety Sense driver assist package. The safety technology includes forward collision warning and mitigation, lane departure warning, auto high-beam control, and adaptive cruise control.
Features & Options
The 2018 Toyota Tundra Crewmax 1794 Edition ($50,130) comes loaded with standard features like foglights, variable intermittent windshield wipers, and an upgraded tech interface that includes a 7-inch touchscreen, HD and satellite radio, traffic information, and navigation. The CrewMax adds a power-opening rear window and an overhead console.
Up front it gets bucket seats, leather upholstery, an upgraded power driver's seat, a power-adjustable passenger seat, a center console (with storage and console shifter), and a tilt-and-telescoping steering wheel. Our tester came with an auto-dimming rearview mirror, 20-inch alloy wheels, automatic headlights, movable tie-down cleats, and dual-zone climate control.
1794 Edition Features
At the top of the heap, the CrewMax 1794 Edition comes with distinctive styling elements, LED daytime running lights, power-folding and auto-dimming mirrors, heated and ventilated front seats, driver-seat memory functions, and a 12-speaker JBL sound system.
Our 1794 Edition tester came with the optional TRD Off-Road package adding 18-inch TRD wheels, off-road tires, trail-tuned shock absorbers, skid plates, and tow hooks (included with 1794 Edition). Other features included the power moonroof ($850), TRD performance exhaust ($1,100), and TRD rear sway bar ($299). Total MSRP including destination: $54,892.
Interior Highlights
Tundra's seats are big and roomy, but we thought they could use a bit more cushioning. Controls are large, logically arranged, and easy to figure out. We could even change the radio station without the owner's manual. The center console is huge and perfect for working in the field because it can easily hold a laptop. A laptop computer will fit perfectly on the console as well.
This 1794 Edition came with brown leather seats with cream-colored stitching, and wood trim on the dash, door panels, steering wheel, and gear shifter. It also featured special 1794 floor mats front and back.
The big CrewMax offers seating for five with leg space for taller riders in every seat. The backseats fold up easily with one pull of the handle, opening up to a large cargo area that's ready to carry those bigger work items. Toyota listened and opted for the folding seats over the tilt and recline feature. Now you can carry tools or other valuable items you'd prefer to have inside and not leave exposed in the open bed.
Engine, Towing, & Fuel Mileage Specs
A 5.7-liter V8 engine developing 381 horsepower and 401 lb-ft. of torque is standard on the Limited, Platinum, 1794, and TRD Pro trims. All Tundras equipped with the 5.7-liter V8 come with a standard tow package and a larger 38-gallon gas tank. It was more than ready to tow up to its rated 10,500 lbs. This tester also came equipped with a 4:30 axle ratio, engine and transmission coolers, and an HD battery and alternator.
EPA fuel economy estimates are 13/17 city/highway and 14 combined with 4WD.
Driving Dynamics
The first thing we noticed after getting behind the wheel was the throaty exhaust note. The optional TRD performance dual exhaust system brings the 5.7-liter V8 to life. We found ourselves jumping hard on the accelerator this week just to hear the sound inside the cabin. The 5.7-liter V8 impresses, thanks its generous torque output and smooth-shifting six-speed automatic transmission.
We had a snow storm hit the mountains this week and shifted from 2H to 4H with the knob on the Tundra's dash. The 4W Demand 4WD system instantly shifted into action and we never lost traction as we moved from dry pavement to a snow-covered highway in less than a few miles. On the open road, Tundra gives the driver a feeling of confidence and security in the extreme elements with its size, commanding view of the road, and all-terrain winter tires.
We had no problem passing slower traffic that was having more difficulty with the slick roads.
Ride quality is reasonably comfortable, though rough pavement and the dirt roads leading to our house produced impacts beyond the normal range. During our urban driving, the Tundra handled well in heavy city traffic. The rear backup camera came in handy as we parked the long CrewMax in a tight parking space.
Conclusion
The 2018 Toyota Tundra CrewMax is a capable full-size pickup, and when equipped with the TRD Off-Road package, can deliver in a big way for those using it for hunting, camping, and boating trips. The 1794 Edition adds an extra level of comfort beyond the ordinary and the new safety tech gives greater security on the road.
Denis Flierl has invested over 25 years in the automotive industry in a variety of roles. Follow his work on Twitter: @CarReviewGuy
2018 Toyota Tundra Gallery
Photos: Toyota Motor Sales, U.S.A., Inc.
Tundra Limited also shows ( Red photo).